Open PHD Guiding – Official Website for PHD2
PHD2 is telescope guiding software that simplifies the process of tracking a guide star, letting you concentrate on other aspects of deep-sky imaging or spectroscopy.


Easy-to-use, "push here dummy" guiding for beginners
Sophisticated guiding and analysis tools for experienced users
Extensive support for commonly-used equipment
Easy upgrade/co-installation with PHD1, including many new features
Available for Windows, Mac, and Linux
Extensive online help and responsive product support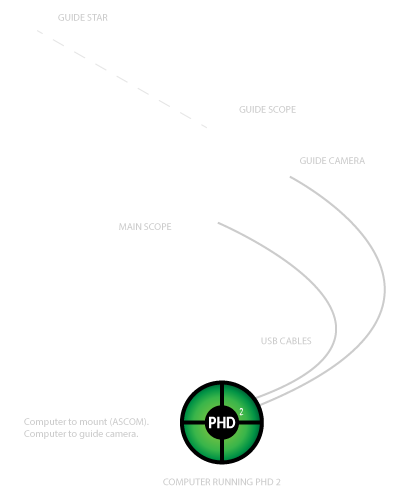 Getting started
PHD2 comes with a built-in help file, which is an excellent way to get started with PHD2.
You can access the help file from the Help menu in PHD2, or you can view or download the manual here: HTML PDF.
For questions about using the application, general troublehooting, bug reports, feature requests, and questions about PHD2 development, please post on the Open PHD Guiding Google group.
Please read How to ask for help with PHD2 for tips on how to ask for help with a guiding problem or to report an issue with PHD2.
Latest News
PHD2 v2.6.12 Released
Head to Downloads for the installation files and release details.
PHD2 Best Practices
Bruce and Andy have compiled a list of best practices for PHD2. These aren't "must-do's", but they represent lessons learned from both personal experience and from analyzing hundreds of log files covering a wide range of equipment configurations. Updated Dec 2019.
Download PDF: English Français Italiano
macOS Catalina
PHD2 is now compatible with macOS Catalina. Download here
Polar Alignment tool video tutorials
Ken has put together some video tutorials on the new PHD2 polar alignment tools: Polar Drift Alignment (PDA) and Static Polar Alignment (SPA)
They can be viewed here: PHD2 polar alignment tutorials.
PHD2_Broker package available
Bruce has contributed a new PHD2_Broker package that lets you use PHD2 with the latest CCD Autopilot automation package (v 5.09.8 or later). You can manage your imaging sessions with CCD Autopilot while letting PHD2 handle guiding and dithering in a coordinated way. Details are provided in the help document that's part of the Broker package. Download: PHD2_Broker download
Tutorial: Analyzing PHD2 Guiding Results
A tutorial on how to interpret your Guide Log and improve your guiding performance, by Bruce Waddington. Highly recommended!  Download PDF English Français Italiano 日本
Tutorial: Off-axis guiding on comets with PHD2
A tutorial on using PHD2's Comet Tracking tool for off-axis guiding on comets, by Lars Karlsson.
PHD2 Dither App
Bruce Waddington has contributed a new PHD2 dithering application. This handy utility can be used to dither PHD2 from applications like MaxIm that do not have built-in support for PHD dithering. Download: PHD_Dither 1b
Getting the Most Out of PHD2 Guiding (Video)
Recently Andy Galasso sat down with The Astroimaging Channel to discuss PHD2 via Google Hangouts. You can watch the session here :
PHD2 Log Viewer
Andy Galasso has written this PHD2 Log File viewer for quickly visualizing your guiding performance and spotting problems in your PHD2 Guide Log.
Details here : http://adgsoftware.com/phd2utils/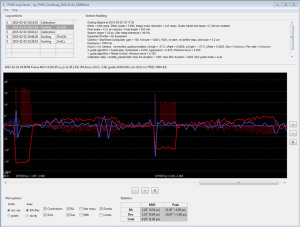 More News...